Dogo Argentino puppies
Fortunately, we do not make a living from selling the few puppies born in our kennel, which do not amount to more than two or three litters per year.
All our puppies leave our kennel at 60 days of age with at least one vaccination, a parasitological exam and related worming, an individual nutritional program, a health certificate, and a vaccination and health-care protocol to follow in his or her new home.
Our Dogo Argentino puppies are carefully socialized in a family environment and are accustomed to being handled by all family members from their very first days of life. The experiences that the puppies face in this period are crucial because they influence their behavior and ability to adapt positively to living with people and other animals. The absence of adequate stimulation and interaction is often the source of temperament problems, which is why our kennel places particular attention on socialization, accustoming the puppies to interaction with people and the outside world.
All our dogs are guaranteed until one year of age against any genetic defect they might carry that leads to death or permanent disability.
They are registered with the Ente Nazionale della Cinofilia Italiana (ENCI), and at the age of approximately 8 months, their are issued a FCI pedigree with complete geneology of their ancestors.
Our puppies are microchipped with our contact information, which will be transferred to the new owner once the sale is complete.
We divide our Dogo Argentino puppies into two categories: "show potential" and "pet". "Show potential" puppies are those that at the age of sale do not show any visible defects and have the potential to have a career in the show ring, or simply be a splendid example of the breed for impassioned fanciers. "Pet puppies" are healthy and sound puppies with a minor defect that does not make them candidates for showing or breeding, but which be optimal and loyal companions in a life with an owner who wants to share it with a Dogo Argentino.
For more information, please do not hesitate to contact us via phone or email.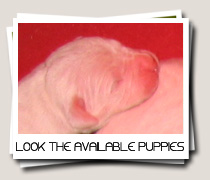 To look at the photos of the available puppies just click on the side photo