About us
My name is Massimo Inzoli. For many years I have lived on that splendid island known as Sicily. I have a degree in economic science and I work as the general manager of a hotel located in the center of the island. To be honest, my life with the Dogo Argentino happened by chance.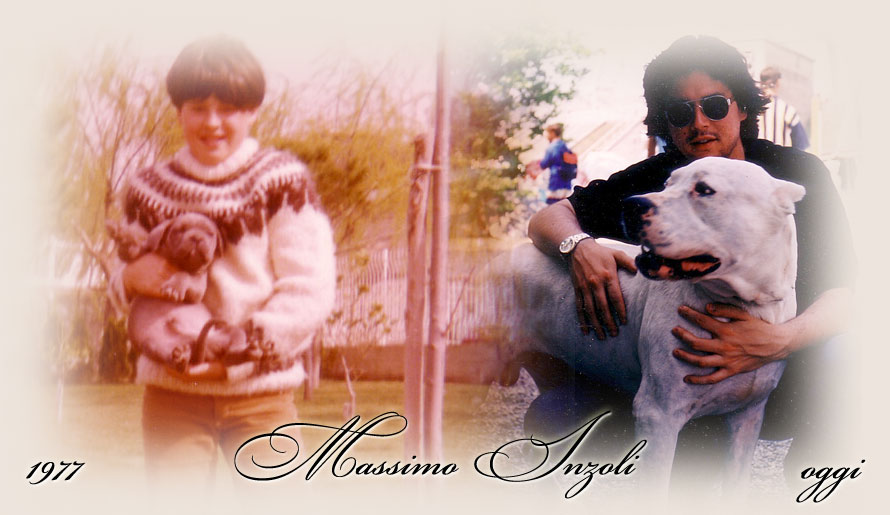 One afternoon in the early 1990s, I visited a friend at his hardware store. After a few minutes of conversation, he told me about a gentleman who came by every day walking a strange white mastiff. It piqued my curiosity to no end, and my visits to that friend increased in the hopes of finally seeing that mysterious white dog.
After several unsuccessful attempts, when I had lost hope, I finally saw it. It was a bitch of not a few years, in truth with a very mottled coat, but to my eyes she was a thing of such beauty that it was love at first sight.
I had found my dog! The man told me about this breed, which exotic and at the time quite rare, explaining that it had been created from other breeds to hunt puma and wild boar. At a certain point that love had already been transformed into a profound passion.
The owner of this bitch was breeding her to a male from another province who, according to him, was quite handsome. In a heartbeat, I decided to reserve a puppy. Everything began this way, by chance, which is perhaps how everything in life should happen.
In the following years, I joined with my dear friend Michele Brandonisio of Bari in breeding the dogs, and together in recent years we have registered another kennel affix recognized by ENCI/FCI, which is called "Canes Pugnaces."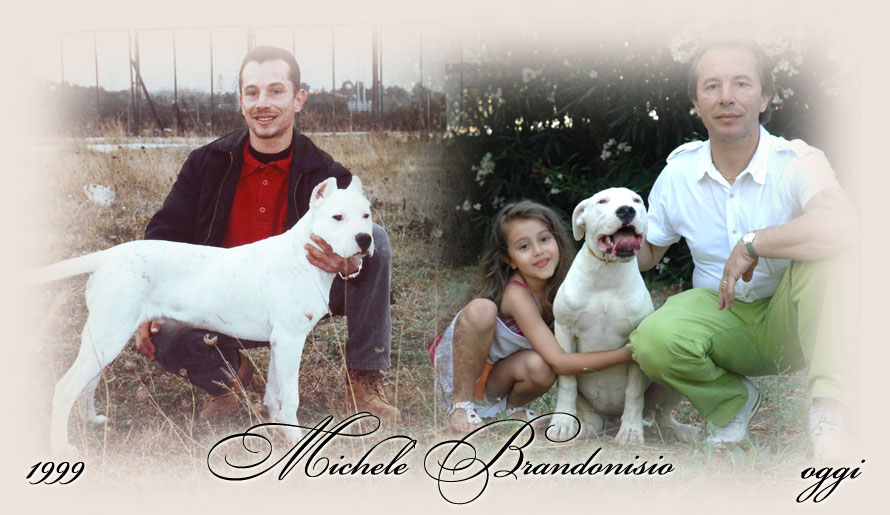 Our future litters of Dogos will be registered under this new prefix. Many puppies and many champions have followed over the years, but the passion is always the same. I do not want to single out any particular dog, but at the very least I must mention Indio de Angel o Demonio, who was one of the most titled Dogos in the world.
After winning in only a few months all that was possible to win in Italy, Indio emigrated to find his fortune in South America, and the results were not slow to arrive. In a few months he became a
Argentinian Grand Champion
Champion of Uruguay
Champion of Mexico
Champion of Chile
Champion of the Americas
Champion of the Carribean
International Champion
In the end he won the official FCA ranking of Best Dogo Argentino of the year in the breed's homeland. It is a record that will remain in the history of the breed.
Dogos from our kennel live all over the world: Austria, Bulgaria, Croatia, Denmark, Finland, Greece, Portugal, Holland, Serbia, Spain, Thailand, in many states in the U.S. (including California, New Mexico, Florida, Virginia, New York, Missouri and Louisiana), as well as all over Italy – islands included!
A good Dogo to all!