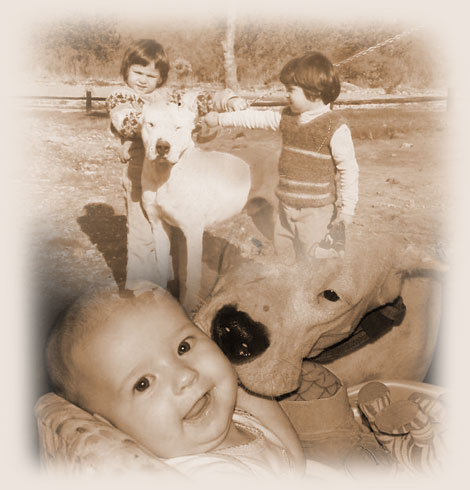 F.A.Q. (Frequently Asked Questions)


1. The Dogo Argentino is fantastic with children and other family members. He is protective by nature, but non-aggressive. At the slightest sign of danger, his natural protective instinct helps him evaluate the situation and react in the most appropriate way (above all when his owner is threatened). Naturally, it is important that even children are taught to respect animals, understanding that incorrect behaviors on their part can lead to negative instinctive reactions on the dog's part.
---
2. Our dogs are not suspicious of strangers without reason. They are very conscious of their strength, and therefore have no reason to be suspicious or afraid.
---
3. Our dogs are friendly in their interactions with other creatures and domesticated animals. It is very important that the young Dogo be accustomed to living with other dogs, nipping in the bud any form of aggression in his interactions with other animals.
---
4. The average for a dog in good health is 12 years of an active life. Naturally, a good quality of life will influence your dog's life expectancy. You should provide vaccinations according to the predetermined schedule, and have your dog wormed at least once a year. Also, during the summer, depending on where the dog lives, you will need to provide protection against common diseases that can be transmitted by parasites and sand flies, such as heartworm.
---
5. The most common defects in the breed are hip dysplasia, entropion (in which the eyelids turn inward), ectropion (in which they turn outward), epilepsy and deafness. The correct selection of breeding stock is crucial in preventing these problems in our dogs. All our breeding dogs are screened and declared free of dysplasia by an accredited registry, and have a DNA sample on file at an affiliated laboratory.
---
6. All our dogs are guaranteed until 1 year of age against any genetic defects that can lead to death or total disability. In this unfortunate event, the buyer will receive another puppy of equal or greater value from the first available litter. We can assure you completely that we know our bloodlines very well, and because of that we select the very best of the breed. We are not a puppy factory, and we do not make a living from our kennel!
---
7. I recommend acquiring the next member of your family from a serious breeder, ideally a private hobby breeder who has bred a litter out of love for the breed. Certainly I discourage you from acquiring one from a pet store, where you cannot meet the parents and where one cannot be guaranteed that the puppy has been well socialized from an early age. Serious retailers have a network of trusted breeders for each breed, putting future owners in touch with breeders, so that buyers, even if they buy from a shop, can have the facts of where their future friend comes from. Talking with the breeder, seeing how he maintains and cares for his dogs, will tell you many things about your future companion.
---
8. The Dogo Argentino is a breed that does not suffer the heat. Of course they should always have unfettered access to fresh water and shelter from the sun. Let us not forget that white-coated dogs, especially those with little pigment, can get sunburned as a result of long exposure to the sun.
---
9. During the growth phase, it is always preferable to have a good, balanced diet. There are various commercial foods of optimal quality that contain all the ingredients and supplements for correct growth. Personally, I do not ever supplement commercial food, only in the adult dog along with his daily ration of stale bread as a treat, which is also useful for keeping teeth clean. In the adult dog it is preferable to give a food with a low protein content because of the white coat, which can develop problems with dermatitis and skin irritation if too much protein is given. I currently feed my dogs a food based on deep-sea fish, which in addition to having a highly digestible protein source, guarantees no trace amounts of drugs. Deep-sea fish, and the oil derived from it, has a minimum of environmental pollutants and pharmacological residue, due to its origin in the North Sea.
---
10. No, they can even live in apartments, if the future owner provides them with adequate exercise. But do not forget that this is an athletic dog who must be given long walks if he is to be maintained in good physical condition.
---
11. Males can reach a height of 62 to 68 cm at the shoulder, and 45 to 50 Kg. Females average 60 to 65 cm tall, with an average weight of 40 to 45 kg.
---
12. Yes, thank heaven our breed is still a healthy one that reproduces naturally 100 percent of the time. Our breedings are always natural ones, and females are usually good producers, with an average of seven to eight puppies in a litter. They whelp naturally and nurse their offspring willingly until weaning.
---